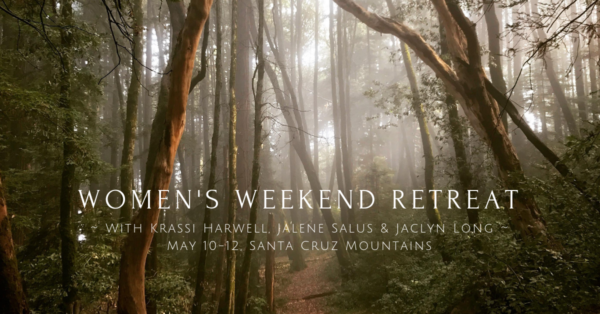 Women's Weekend Retreat
May 10, 2019 @ 8:00 am

-

May 12, 2019 @ 5:00 pm
Cultivating Self-Compassion:
Women's Weekend Yoga & Mindfulness Retreat
4pm Friday, May 10 to 10am Sunday, May 12, 2019
(Mother's Day Weekend!)
5800 Prescott Road, Soquel, California, 95073
Jaclyn Long, Jalene Salus & Krassi Harwell
(See facilitator info below)
$800 single / $650 double / $600 triple
Cost includes all meals from Friday evening through Sunday morning, accommodations, all taxes, tips and workshop fees.
Can't make it for the whole weekend, but still want to experience this women's retreat? 
Join us on Saturday for $150 workshop fee plus $85 day pass!
(includes all 3 scrumptious meals)
Description:
"The path is not about perfecting the self. The path is about deepening compassion for the self." – Jack Kornfield
At the root of all relationships is the relationship with ourselves. Most of us are, often unknowingly, quite judgmental and critical of ourselves.
Spend this weekend nourishing your relationship with your own, dear self as you cultivate self-compassion. Consider it an investment in your wellbeing – an investment that will benefit all of those around you!
Your wellness experts will guide you inward, as you step out of the hustle and bustle of everyday life and more fully tune into the magnificent world within you. Inviting you to bring a spirit of curiosity and care, Jaclyn, Jalene & Krassi will walk you through a nourishing journey of reconnecting with your inner landscapes through yoga, meditation and experiential activities. You will learn practices that help you cultivate self-compassion as you bear witness to the grand array of your unfolding experiences. You will be introduced to tools to help you navigate the daily vicissitudes of life with an increased sense of capacity, ease and overall wellbeing. Discover a rich tapestry of wellness experiences and enrichment activities, including mindfulness-based yoga, meditation, breathing, walking and self-compassion practices.
Although we specialize in working with mothers, this is not a mother's retreat. It is a women's retreat – and women without children are encouraged to attend! No previous experience in yoga or meditation is necessary. Whether you have been practicing yoga and/or meditation for 30 years, or you have never stepped onto a yoga mat or sat on a meditation cushion before, Jaclyn, Jalene and Krassi will engage you on all levels and will meet you where you are in the process. They will serve as gracious hosts as they escort you on this adventure that can open doors to a more fulfilling, easeful and integrated life.
You work so hard. Every – single – day. You need a break.
We hope you can give this nourishing weekend as a gift to yourself – to benefit those around you.
About Land of Medicine Buddha:
Land of Medicine Buddha is an environmentally conscious meditation and retreat center set on a forested piece of property at the foothills of the Santa Cruz Mountains. Nestled on 108 acres of coastal foothills, the center opens up to 10,000 acres of redwood forest preserved by the State of California. In between wellness sessions, you can enjoy an invigorating hike, take a refreshing dip in the spring-water filled swimming pool or relax in the sauna. Land of Medicine Buddha is renowned for its delicious vegetarian meals, which feature seasonal, local produce and mostly organic ingredients.
Facilitators:
Jaclyn Long, MFT, RYT

Jaclyn Long, MFT, RYT graduated summa cum laude from Princeton University in 1998 with a degree in Psychology and a specialization in Neuroscience, and went on to receive her Master's Degree in Transpersonal Psychology in 2003 and in Counseling Psychology in 2004. She has been teaching yoga and mindfulness meditation since 2001. From the beaches of Bali, to the jungles of Costa Rica, to the heart of Hawaii, Jaclyn has been facilitating international yoga and mindfulness retreats since 2004. She loves inviting people to step out of their habitual patterns and move into deeper states of presence with themselves and with the natural world. Through thoughtful themes, intention setting and the skilled use of poetry, Jaclyn guides participants on a journey of reconnecting with themselves. She cares deeply about helping people to cultivate a more compassionate relationship with the unique unfolding of their internal experiences, such as thoughts, feelings and sensations. Jaclyn is Founder & Director of Mind Body Moms,  which provides mindfulness-based wellness programs and international retreats. Through this work, she brings mindfulness-based wellness programs to low-income mothers and families. She is also Founder & Director of Mindful Child & Family Therapy, Inc  and serves as a mindfulness-based Marriage & Family Therapist blending eastern and western wisdom. Jaclyn is also a mom. She draws from the stress-reduction practices that she teaches to sustain, ground and resource herself as a mom. She makes a living offering therapy, facilitating moms groups, leading international retreats and directing two organizations. She makes a life by hanging out with her husband and son, walking on the beach, surfing and practicing yoga and mindfulness. Jaclyn is on a mission to support people on their journey of wellness, and is passionate about introducing people to yoga, mindfulness meditation and self-compassion practices.
Jalene Salus, MFT, HHC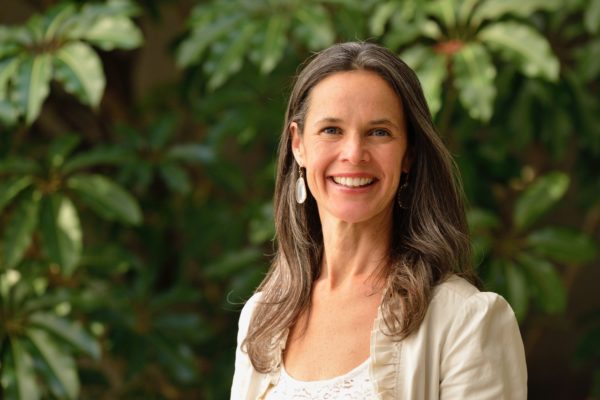 Jalene is a Certified Holistic Health & Nutrition Counselor as well as a Licensed Marriage & Family Therapist. She is also a mindfulness instructor, parent educator and  mother.  She is passionate about inspiring others to live healthy, authentic, and dynamic lives that reflect their greatest potential. She helps people make lifestyle choices that transform their families, communities, and the world.
Jalene offers holistic nutrition counseling and individual, couple, & family therapy. She also leads workshops and retreats on integrative health topics, provides wellness consulting, mindfulness instruction, parenting education and coaching. Above  all, you will sense her deep listening with a pure belief in people, and her presence with others in a sacred and honoring manner.
Krassi Harwell, RYT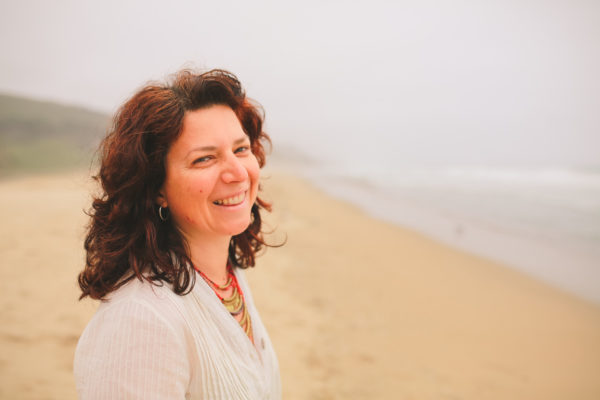 Krassi is a certified yoga instructor, an author, a DONA certified birth and postpartum doula and a counseling practitioner in the Hakomi method, which weaves the mindfulness and non-violence principles of Eastern philosophy with Western Psychology.
In 1996 Krassi left her native Bulgaria and moved to the SF Bay Area where she rediscovered yoga and has been an avid student of the art ever since. In 2001 she took a year-long trip to India and Thailand, and received her yoga teacher-training certification from Vivekanada Prashanti Kutiram Yoga Institute in Bangalore, India. Krassi's teaching focuses on integrating the spiritual, emotional and mental aspects of yoga within a physical practice. As part of her yoga teacher training, Krassi had the joy of teaching yoga to children in the Himalayan mountains. Since then sharing yoga with little ones and their families has been a passion and a calling. Krassi has taught yoga to children in school setting, yoga studios, preschools and week-long family retreats in Hawaii and Costa Rica. She is the author of a book for children Morning, Zora!and the beautiful and playful Yoga Cards for Children.
As the mother of two, Krassi has experienced first hand how the tools she has acquired through her study of yoga, mindfulness and psychology can make the beautiful and often challenging journey through parenthood smoother and more enjoyable.
WORKSHOPS: A 100% refund is offered up until 3 weeks from the event. A 50% refund is offered between 3 weeks to 1 week from the event. No refunds are offered within 1 week of the event, although all tickets are 100% transferable. You are welcome to transfer your ticket to someone you find who can fill your spot. We encourage that! Just let us know the name and contact information of the person who will be attending in your place.
PLEASE NOTE: All workshops and retreats are 100% transferable. We are not responsible for finding replacements. So we do encourage you to reach out to friends ahead of time who can take your place if you think there is any reason you might not be able to attend the event.
Share This Story, Choose Your Platform!