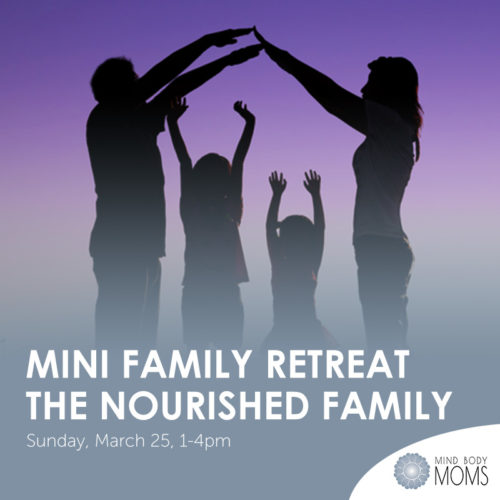 Mini Family Retreat
March 25, 2018 @ 1:00 pm

-

March 26, 2018 @ 4:00 pm
With Krassi Harwell (kids yoga & meditation),
Drew Harwell (storytelling, African songs & drumming),
Nora Ziegenhahn (family mindfulness & labyrinth walk)
& Jalene Salus (parent wellness & whole family nutrition)
Sunday, March 25, 1-4pm
Cost: $60 per person
For parents and kids ages 6-12 yrs
Private Estate in Los Altos Hills
Questions: Jaclyn@mindbodymoms.com
Come Join Us for "The Nourished Family" ~ a Mini Retreat for the Whole Family!
The whole family will enjoy a talk on integrative nutrition while  we nibble on healthy bites, as we learn about the importance of nourishing ourselves through our relationships as well as through eating local, organic, green foods. Delicious food will be served! Then, kids will enjoy playful yoga, walking a labyrinth and storytelling while parents continue a dialogue on integrative nutrition which can help bring parents onto the same page when it comes to feeding the family!
PLEASE NOTE: This is a beautiful & fulfilling offering for any members of your family in whatever combination! All family configurations are welcome. Dads can come alone with the kids – or moms can come alone with the kids – and maybe grandma wants to come too! The more, the merrier. All proceeds will support our programs for low-income moms. So when you invest in your family by participating in this retreat, you invest in the community as well!
HERE'S AN OUTLINE OF OUR MINI FAMILY RETREAT:
We will gather in a bright and spacious home in Los Altos Hills. The outdoor area is filled with Spring's new blossoms, a grassy knoll for children's yoga, and an inspirational view of nature's bounty.
Drew Harwell of Pathfinders Nature Mentoring will open our time together with inspirational storytelling, live African drumming & songs.
Jalene Salus, MFT/HHC will then facilitate an Integrative Nutrition Dialogue on "Feeding the Whole Family".  She will offer families an engaging experiential activity to help kids – and parents – learn how to nourish our whole selves for vibrant health! Parents and children will be empowered to create their own healthy & nutrient dense snack – with a rainbow of color and nutrients, feeding their bodies with powerful, green-light foods! Kids & parents will have a chance to work together, practicing rituals that cultivate connection and ease around family meals.
Parents will then be invited to enjoy time on their own with Jalene, for an Integrative Nutrition class on "Feeding the Whole Family", followed by a nurturing support circle for parents to share their authentic journey of feeding their families.  Resources, recipes and support will be offered for the journey.
While the parents are in a discussion on Integrative Nutrition, the children will be invited to enjoy a playful & engaging children's yoga session with Krassi Harwell, creator of Yoga Cards for Children and author of Morning Zora. Krassi will help your children learn tools to focus their minds and move their bodies in a mindful and respectful manner, all the while having tons of fun!
Nora Ziegenhahn will then lead the children through a mindfulness-based walking meditation through a handcrafted Labyrinth – built by the kids! Then the parents and kids will come together to walk the Labyrinth, sharing this quiet and sacred time together in mindful presence in nature.
For a fulfilling end to the day, Drew Harwell will help us close with a story, song and African drumming.
Join our talented team of facilitators, and we will help your family feel truly nourished as you step into spring in rhythm together!
Please note: All proceeds from this fundraising event will be put towards the charitable programs that Mind Body Moms offers for free to the community. Your participation will help us support the hard working low-income moms in our community!
We wholeheartedly thank the generous host for opening her home for this fun & fulfilling fundraising event. Please notify us if you would like to host a Mini Family Retreat at your home! Email Jaclyn@mindbodymoms.com.
Share This Story, Choose Your Platform!