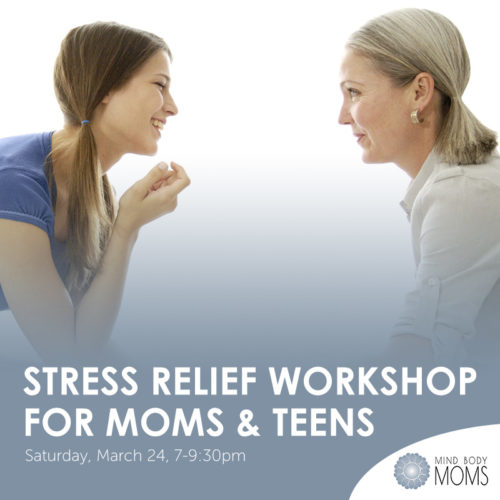 Mom & Teen
March 24, 2018 @ 7:00 pm

-

9:30 pm
Stress Relief Workshop for Moms & Teens
With Jaclyn Long, MFT, RYT (Mindful Yoga, Discussion & Stress Relief for Moms)
& Danielle Seybold, Associate MFT, RYT (Mindfulness, Art & Stress Relief for Teens)
Location: Yoga Source, 158 Hamilton Ave, Palo Alto, CA
Date & Time: Saturday, March 24 from 7-9:30pm
Age Range: The suggested teen age range is 14-18, but mature younger teens who have expressed a sincere interest in yoga and mindfulness are warmly welcome and encouraged.
Cost: FREE!
Moms and teens are invited to come enjoy a nourishing evening together to reduce stress, restore balance and replenish reserves.
Moms will begin with Jaclyn Long in one studio, practicing mindfulness-based gentle yoga by candlelight, followed by an enriching dialogue about supporting teens through stressful times. Jaclyn will guide you through practices that will help you shed tension, decrease anxiety, and tap into the inherent spaciousness within you. She'll share some parenting tools for raising a teen who is sometimes overcome with anxiety. You will leave feeling more grounded, in touch with yourself, and better equipped for your journey ahead with your teen.
Teens will begin in the adjacent studio with Danielle Seybold, and will have the opportunity to explore a fulfilling mixture of mindfulness, community, and expressive arts activities. Activities will include gentle movement warm-ups, sensory-awareness mindfulness practices, and a dialogue about common sources of stress to help normalize the challenges teens face.  Teens will also learn a few practical, simple & straightforward techniques to increase resilience during challenging times (such as taking tests or navigating difficult social situations). Then they will deepen their self-exploration through the creation of an art project centered around the mindfulness practice of loving-kindness. Teens can take the creation home and keep it as a touchstone to remind them of the tools and insights gleaned from their time practicing together.
Moms and teens will be invited into the same studio at the end of the evening to practice a sweet relaxation practice together, nourished by soothing music and the soft light of the candles. We look forward to offering this nourishing evening for you and your teen to relax, reduce stress and truly replenish yourselves for the journey ahead!
We would like to thank Yoga Source for their generous hosting of this free event, offered by Mind Body Moms for the benefit of the community.
Love this event?  Consider registering your teen for Danielle Seybold's upcoming Teen Wellness Group:
Teen Wellness Group with Danielle Seybold
Saturdays 3-5pm: 4/14, 4/21, 4/28 and 5/12
4966 El Camino Real, Ste #115
Los Altos, CA 94022
Cost: $300 (Group is limited to 8 participants)
Share This Story, Choose Your Platform!