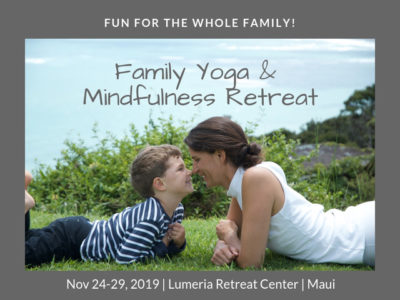 Q:  My son LOVES the beach! How much "beach time" will there be?
A: Lots & lots of beach time! We'll have time to hang out on the beach and snorkel from 9:30am-4pm every day! The beach is your oyster! There will even be an optional surf lesson from 9:30am-11am each morning with an incredible team of talented instructors – for adults and kids. And there are many beautiful beaches on the island of Maui that you are free to explore. We can even point you to a few beaches and snorkel spots that are VERY likely to have sea turtles!
Q: The Lumeria website indicated that Lumeria is not a good fit for children. Can we really bring kids to this retreat?
A: YES! While Lumeria usually maintains a "peaceful environment" and usually discourages children from attending, they are making a VERY special exception for our kid-friendly Family Retreat! During our week, there will be lots of children running around, playing and expressing themselves freely! This is one week when your children can come with you to enjoy Lumeria and all of its beauty!!
Q: How much Family Time and how much Kid-Free time will there be? 
A: We curated the schedule to offer you plenty of Family Time AND plenty of Kid-Free Time! Each day, you will enjoy 3.5 to 4 hours of Kid-Free time, along with a Parents Night Out on Wednesday night from 4-8pm. If you're in need of more of a break from the kids, additional kid-free time can be arranged upon request with an additional fee of $15-20/hr.
While our first kids activity is at 6am, it's helpful to remember that our kids will be experiencing that time as much later (9am PST and 12pm EST). We have found that most kids are WIDE AWAKE and begging for something FUN to do by 6am! 😉
Q. Which airport do we fly into? 
A. Fly into Kahului Airport – OGG. It is only a 15 minute drive from Lumeria.
Q: Do we need to rent a car?
A: We highly recommend that you do rent a car for your family. We wanted to give you and your family the gift of choice for your family excursions, so instead of pre-determining the adventures, we invite you to choose your own adventures! We will give you a list of excursions to choose from, and you can explore as you please. Having your own car will be helpful for getting to / from your excursions to the beach, zip-lining, surf lessons and – of course – your Parents Night Out!
Alternatively, you can simply take a Lyft / Uber to / from the airport and around the island for your excursions. While some excursions include transportation (such as the Lavender Farm Tour), many do not.