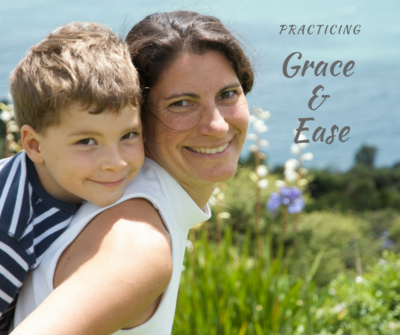 I'm a mom. And a wife. And a friend. And a social entrepreneur. I run a private practice as a Marriage & Family Therapist in Silicon Valley – with a very full load of 30 clients. And I'm Founder and Director of a charitable organization to support moms – for the benefit and good of their kids. I lead groups, wellness workshops and yoga retreats.
It's easy to say that sometimes I get overwhelmed. Really overwhelmed. There are moments – at least once every six months – when I weep in my husband's arms, feeling the weight of it all. (And then I usually feel better, and so grateful to have my husband's steady, loving, consistent support.)
But most of the time, I'm feeling…fine. A deep sense of wellbeing. Grateful for the loving relationships I've cultivated between me, my husband and my son.
I cultivate these relationships intentionally – primarily in these two ways:
1) I seek guidance, mentorship and support – both proactively to educate and inform myself, and also when I have concerns or when things are challenging between us. I've consulted with and I've been taught by really wonderful mentors, like Patty Wipfler from Hand in Hand Parenting,  Bonnie Harris – author of When Your Kids Push Your Buttons, Becky Divinski from Kind and Firm Parenting, Larry Cohen – author of Playful Parenting, and more.
2) I prioritize family. I start each morning with 25 minutes of "Self Care Special Time" – which usually consists of mindful yoga and meditation so I can fill my own cup first, and then I dedicate the next 20 minutes of each morning to "Special Time" with my son. I set aside all of my "To Do" items for the day, and I practice being present with one of the most important people in my life – letting him direct our time together, seeing what he wants to do, redirecting my attention back to him again and again, as a kind of continuation of my morning meditation.
On Mondays, Wednesdays and Fridays, I stop working at 1:45pm – when my son gets out of school, so I can hang out with him, play games, take him to practice and host playdates. Family time is important to me.
And it does get busy. Really busy. So busy that I can't recall the last time I wrote a To Do List, and actually crossed everything off of it! I swear that it must have been before I had my son 8 years ago! I don't even remember what that feeling of completion is like! And during these busy times (i.e., every-single- day), I practice moving through the day with Grace and Ease.
So this was the practice I shared with the loving, dedicated women in my Mindful Moms group this Thursday 7/26/18:
Invoking Grace & Ease.
I invited the moms in our circle to cultivate Grace and Ease that is inclusive of the daily vicissitudes. It's easy to feel Grace and Ease when things are naturally easeful. The challenge is to tap into the spirit of Grace and Ease that is still there within us – within the infinite field of possibility inside us and around us – even when things are frenzied and hectic and challenging. Even when there are far more things on our To Do List than we can possibly accomplish.
The essence of Grace and Ease is there within us and around us. We simply need to call their names to awaken their energy – like calling someone's name to ask them to come and be with us. By invoking Grace and Ease, we are calling out to them, as though they are our "aunties" or angels or guides, asking them to come, stand by our side and be with us.
I shared a poem written by Mindful Moms participant and author, Kaveri Patel, from her book of poems Together.  At the end of the poem entitled  "I Will Be There", Patel writes:
"Please, oh please my Precious One
Do not travel all any longer
I will be there when you call my name"
We can imagine Grace and Ease saying this to us.
We practiced moving and breathing as we invoked a spirit of Grace and Ease within us.
"With Grace and Ease, may I move through this day. May I move through this day with Grave and Ease."
Then we shared this invocation with our children, as we moved and breathed together in the sun salutations:
"With Grace and Ease may you move through your day, my child. May you move through your day with Grace and Ease."
After the mindful yoga practice, we broke up into triads and took turns sharing about the theme of Grace and Ease. Some of the women spoke about work-related challenges, others about family life, and others about friends / social life. Then we formed a large circle, as we do each week, to practice mindful listening as each woman takes turns sharing the joys and challenges of her life as a mom, as a woman in this world.
And so, dear reader, I will offer you this lovingkindness wish:
"With Grace and Ease may you move through your day.
May you move through your day with Grace and Ease."
And – at the end of your day, with Grace and Ease, may you let go of all of those things you had on your To Do List that you did not get to do! And may you remember that – at the end of my day – there were SO MANY THINGS that I did not get to do, too!
We're in this together. And it's really not possible to do it "all". But it is possible to move through our very full days with a sense of Grace and Ease. Just call their names, and they will come!
– Jaclyn Long, MFT
Mom, wife, friend
Founder & Director
Mind Body Moms
www.MindBodyMoms.com