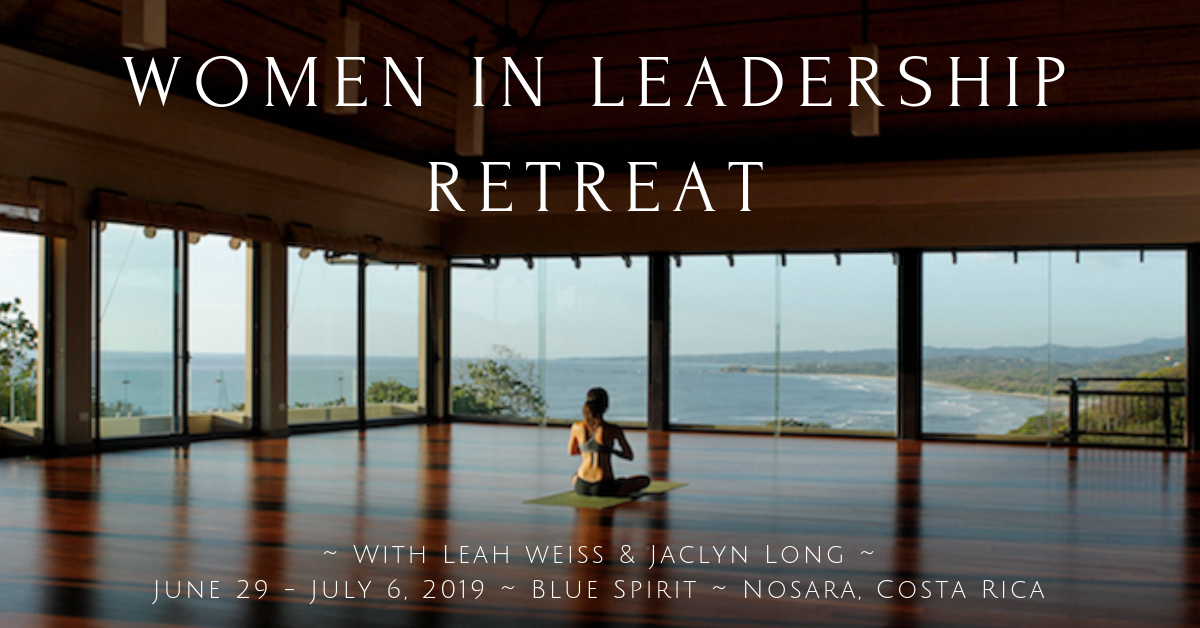 Women In Leadership Retreat In Costa Rica
June 29, 2019

-

July 6, 2019
Women In Leadership Retreat
For Leadership Development, Wellness and Renewal
Most employers cover the cost of professional development training. Please contact your HR department to inquire.
DATES:
Saturday, June 29 at 4pm – Saturday, July 6 at 9am, 2019
(Our closing ceremony will be on Friday night, July 5th, as most flights out of Costa Rica leave early in the morning on Saturday 7/6.)
LOCATION:
Blue Spirit Retreat Center ~ Nosara, Costa Rica
Fly into Liberia airport (LIR) and take a 2.5 hour taxi, or fly into San Jose International (SJO) and either take a 5 hour taxi or – if the timing works – you can take a $75 domestic flight into Nosara on Sansa Airlines.
FACILITATORS:
Professor of "Leading With Mindfulness & Compassion" at Stanford Graduate School of Business
Leah Weiss is a researcher, professor, consultant, and author. She teaches courses on compassionate leadership at the Stanford Graduate School of Business and is principal teacher and founding faculty for Stanford's Compassion Cultivation Program, conceived by the Dalai Lama. She is a corporate leadership consultant and the author of the newly released book How We Work: Live Your Purpose, Reclaim Your Sanity, and Embrace The Daily Grind. She also directs Compassion Education and Scholarship at HopeLab, an Omidyar Group research and development nonprofit focused on resilience. She lives in California with her husband and three children.
Jaclyn Long, MFT, RYT
Jaclyn Long is Founder & Director of Mind Body Moms – empowering leaders at home and in the workplace with tools to promote mindfulness, compassion, resilience, effective communication and strong leadership tools. She is also a licensed Marriage & Family Therapist, a Certified Yoga & Meditation Teacher and a Certified Parent Educator in both Positive Discipline and Hand in Hand Parenting. Jaclyn has been leading international yoga and wellness retreats since 2004. In her free time, she enjoys surfing, songwriting and hanging out on the beach with her husband and son.
WHO IS INVITED TO ATTEND:
Whether you are or aspire to be a corporate manager, a civic leader, a non-profit leader, an entrepreneur, a full time mom, a full time working mom, a part time working mom, a grandmother and/or a community volunteer –  we value you as Women In Leadership! We see the value you bring to your teams, families and communities, and we want to invest in you as leaders in the community. We would love to empower you with tools for effective leadership throughout our Women In Leadership Retreat!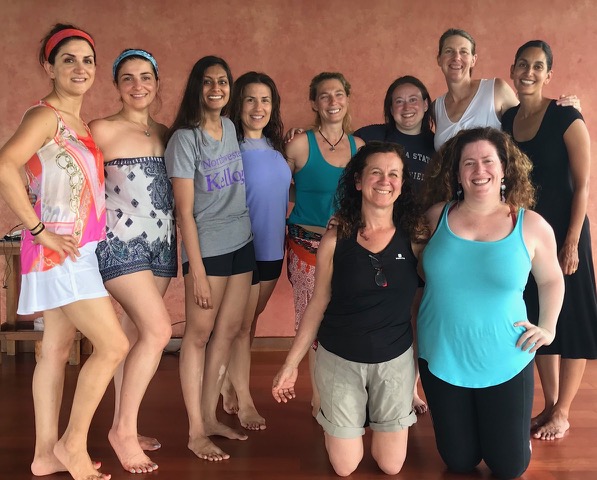 DESCRIPTION:
Join Leah Weiss, Jaclyn Long and a talented team of surfing instructors for a deeply enriching retreat at Blue Spirit…a luxury retreat center just steps away from some of the most consistent surf in Costa Rica! Leah's course brings professional and powerful women together – a network of driven individuals seeking purpose in both work and in life! Jaclyn's work empowers us with tools to manage stress and anxiety well, so we can tap into our deeper meanings and truly listen to that still, quiet voice within that can help guide us through the day.
Leah & Jaclyn will invite you to explore truly transformative personal growth and professional development experiences:
Discover your passion
Articulate your purpose
Deepen your resilience and build your capacity to navigate the challenges of life as you practice mindfulness tools.
Develop leadership skills that will support you with your career goals, facilitate peak performance in the workplace and refuel you for the journey ahead.
Strengthen your parent leadership skills to promote fulfilling family connections.
Nurture your body with healthy, vital foods, surfing lessons and daily yoga practices to promote joint and organ health.
Rediscover who you are through gentle self-inquiry practices, including reflective journaling, paired sharing and group sharing exercises.
Network with a group of women who care deeply about leading their teams – and/or their families – with mindfulness and compassion.
Begin each day with Jackie's mindfulness-based yoga practice.

After a wholesome breakfast, you can choose to sign up for surf lessons, sit by the pool and read or take long walks on the beach. With its sand bottom, gentle whitewash, and consistent waves, Playa Guiones is an EXCEPTIONAL place to LEARN TO SURF! Learning to surf is a great way to practice "beginner's mind", promote brain health, boost mood and support overall well-being!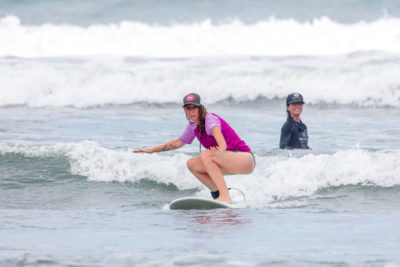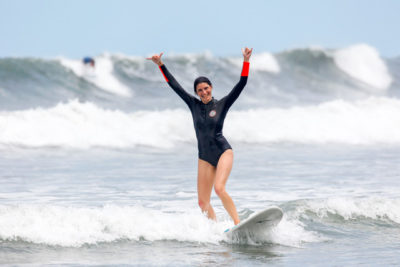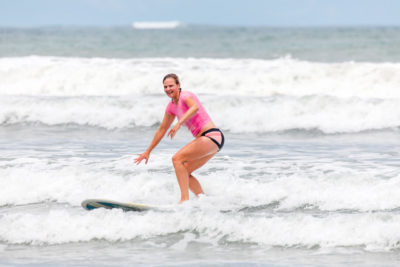 Enjoy a gourmet vegetarian lunch (with scrumptious and plentiful vegan / gluten free options). Then, you can rest, enjoy on-site spa services, or choose from an incredible array of fun-filled excursions. Enjoy kayaking, stand-up paddleboarding, the world's longest zip-lining canopy tour, horse-back riding, or hike to a magical waterfall. Costa Rica's wild and raw terrain is an adventure-lovers dream!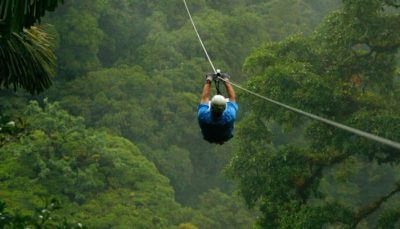 Leah will spend the afternoon supporting your professional development by facilitating exercises that help you tap into your purpose and inspire you to lead with mindfulness and compassion.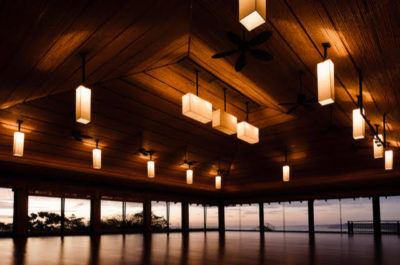 Following a delicious dinner together each evening, Jackie will facilitate an engaging dialogue on parent leadership and mindful motherhood for those women in attendance who are / want to be parents. Then, Jackie will invite all participants to integrate your insights from the day and settle your nervous system with a soothing, mindfulness-based, restorative / yin yoga session. She'll help you release stress and shed tension as you prepare your body for a deep, restful night of sleep.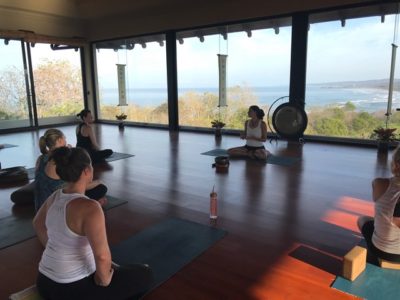 This week promises to be a rejuvenating professional development experience, helping you to strengthen leadership skills, clarify your purpose, boost overall health, promote well-being, tune into your natural rhythms and refuel for your career path ahead. (Please note: Full time moms are welcome and encouraged to attend our retreat. We view parenting as one of the most worthy and important jobs in the world!)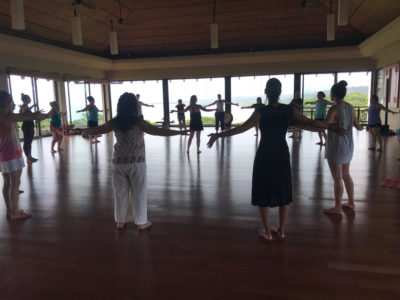 An additional bonus – Our retreats help you foster friendship and connection with like-minded ladies. Truly kind, caring, wise, adventurous and soulful women tend to gravitate to our retreats! We would love to have YOU join us!
Email Jaclyn@mindbodymoms.com to ask questions!
To register, CLICK HERE to select your accommodations. Then click on the "Register Now" button below to fill out our registration form.
Alternatively, you can email jaclyn@mindbodymoms.com with your accommodation preference and any questions.
A $500 non-refundable deposit is required to secure your spot. Only 15 rooms are available, so we encourage you to register early so you can have optimal choice of accommodations.
Not ready to register? Subscribe to our newsletter to receive updates about registering for our retreats!
Email Jaclyn@MindBodyMoms.com to ask questions!
WE APPRECIATE OUR SPONSORS!
Want to serve as a sponsor for our Women In Leadership Retreat?
Please email stephanie@mindbodymoms.com for info.